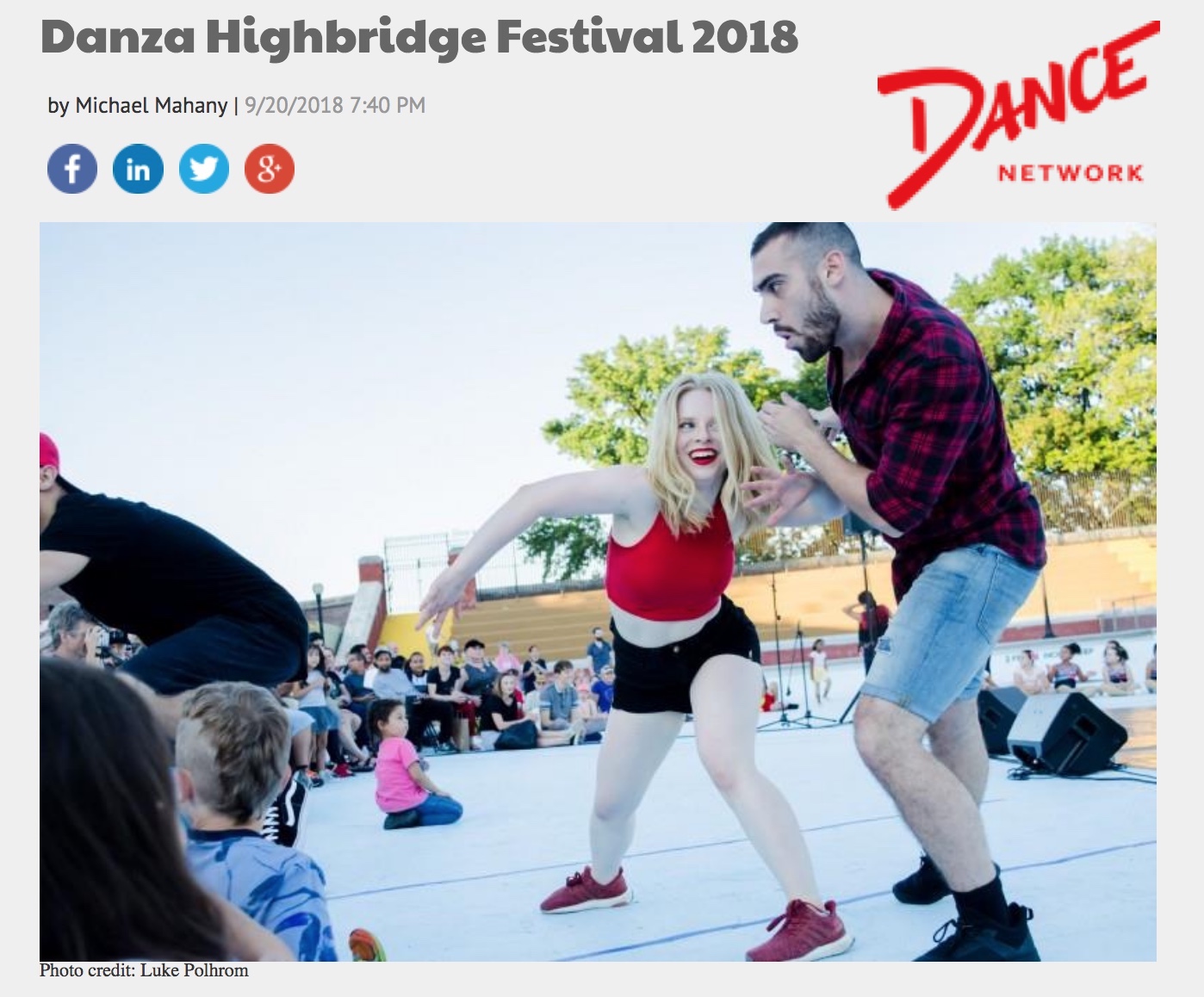 ThruLines Featured on Dance Network!
"The United Palace of Cultural Arts is gearing up for the third annual Danza Highbridge Festival on September 22nd. The, now yearly, late summer outdoor dance festival takes place in the drained Highbridge Park swimming pool, in the Washington Heights neighborhood of upper Manhattan. Cassie Nordgren, a remarkable New York City choreographer, brings her passion for sharing and celebrating dance with the uptown community and curates the concert…"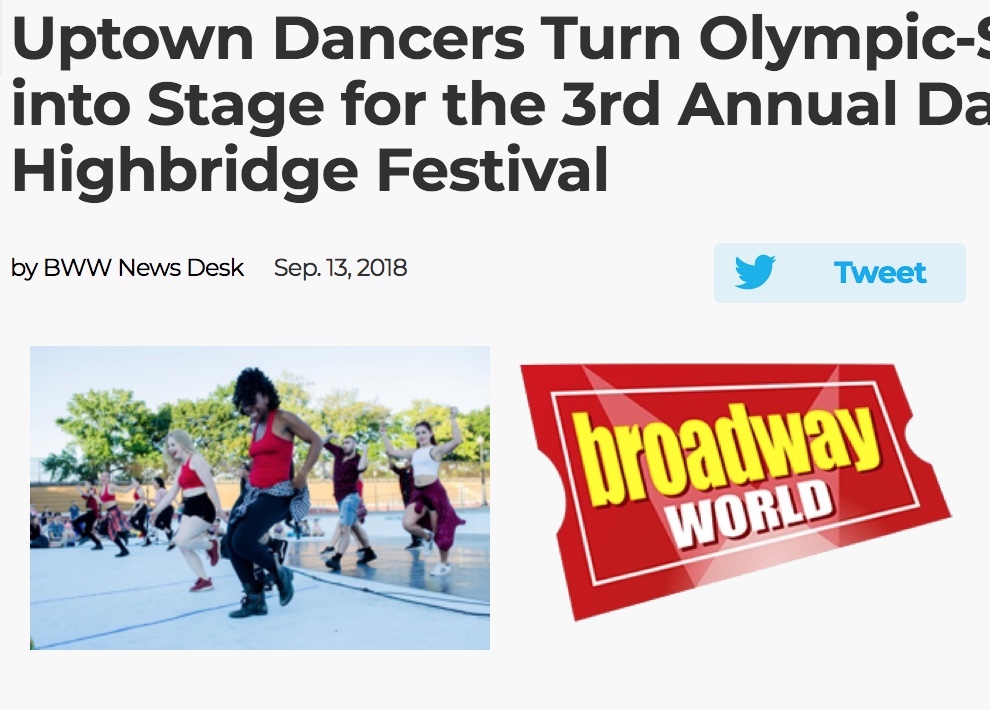 ThruLines performs at the 2018 Danza Highbridge Festival!
"With so few opportunities to see a live performance above 145th street, I am excited to share such a diverse lineup of artists with the uptown community," says Cassie Nordgren. "There is a little something for everyone and anyone who wants to can attend…."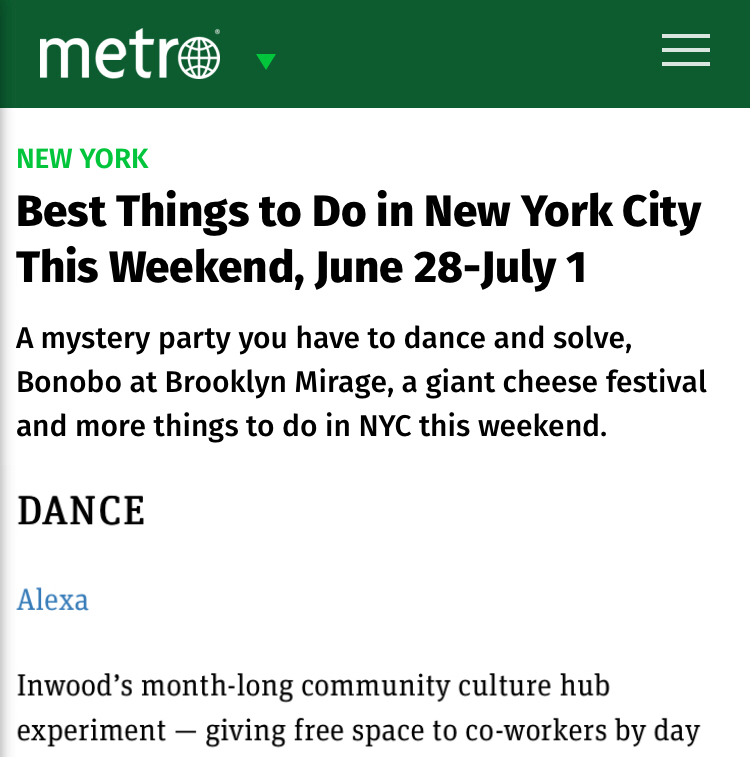 ALEXA is listed in "Best Things To Do This Weekend" by Metro NY!
"Alexa, described as a "new dance narrative" by Roddy Kennedy, Ali Marconi and Cassie Nordgren, delves into the new relationships that technology has enabled and we now think of as normal, as we continue to hurtle toward a possibly totally virtual reality."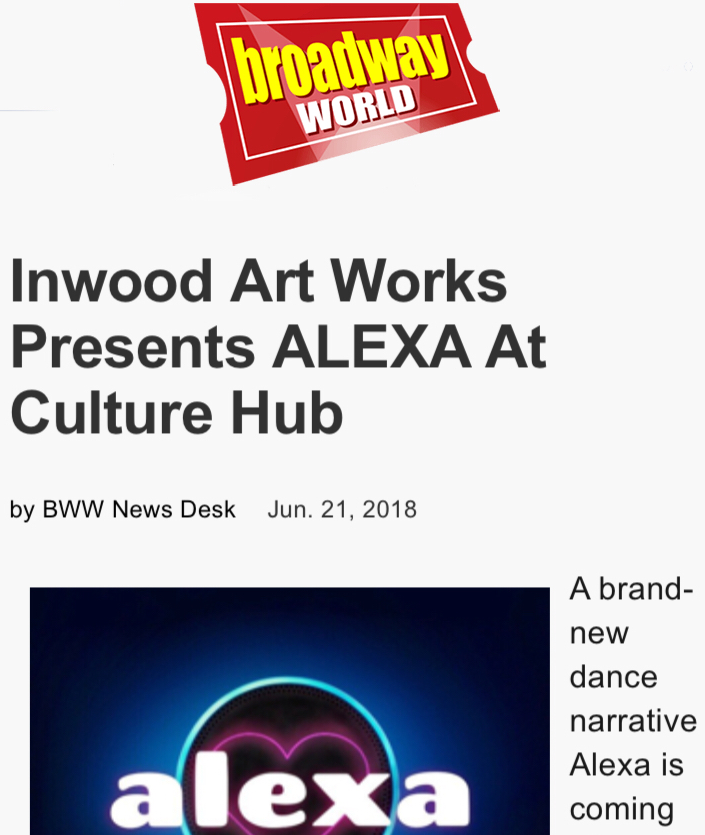 Alexa featured on Broadway World!
"...Alexa, a site-specific show based on the Amazon device, closes out the month-long programming at Culture Hub, a pop-up community arts center that is part of a vacant space activation program by Inwood Art Works... In this site-specific experience, Alexa takes an inside look at the relationships we deem "normal" today as virtual reality comes to life all around you. The invisibility of technology is both amazing and tragic when you're looking for new love in 2018."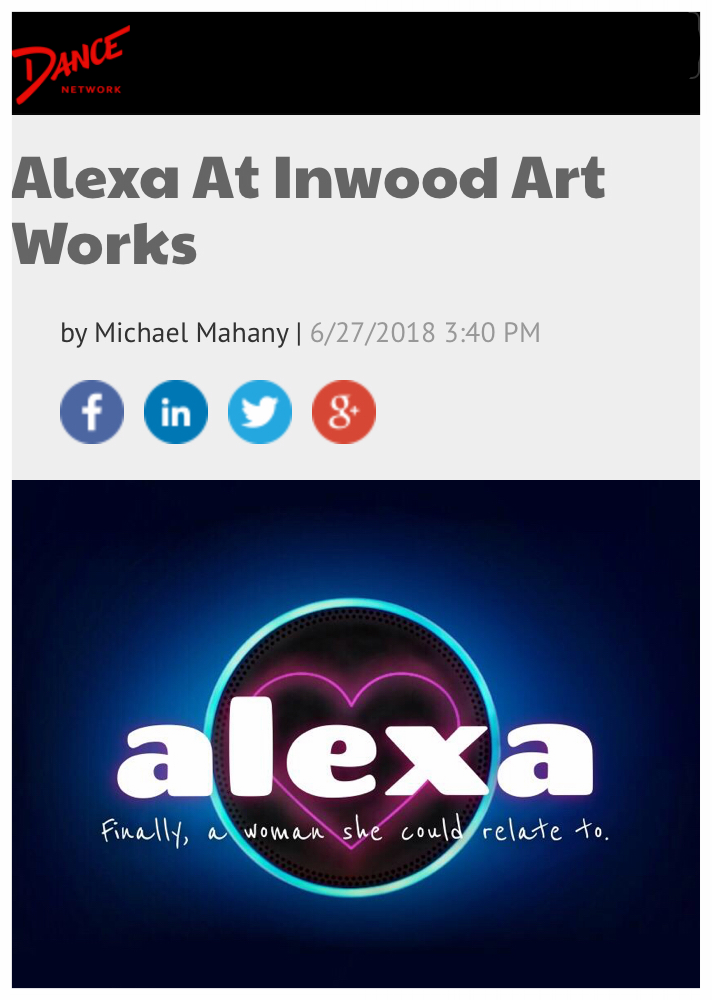 Alexa featured on Dance Network!
"In an abandoned nightclub way uptown, a quiet northern Manhattan residential neighborhood, budding with diversity, has been celebrating the arts in a month long festival derived and developed through Inwood Art Works. The festival... is wrapping up with a, "brand-new dance narrative" called Alexa, inspired by the in-home virtual assistant of the same name...Three well respected New York City dancer/choreographers— 2017 recipient of the Danza Debuts commission from the United Palace of Cultural Art, Cassie Nordgren, Hamilton performer, Roddy Kennedy, and Harlem based artist and creator, Alessandra Marconi— teamed up with ThruLines— "a dance initiative committed to the development of original dance narratives that are relevant and accessible to today's diverse audiences"— to develop Alexa."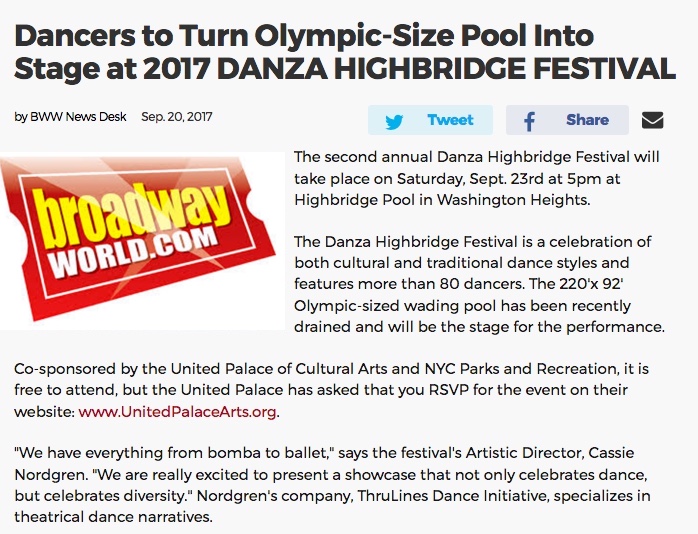 Thrulines on BroadwayWorld!
"'We are really excited to present a showcase that not only celebrates dance, but celebrates diversity." Nordgren's company, ThruLines Dance Initiative, specializes in theatrical dance narratives...."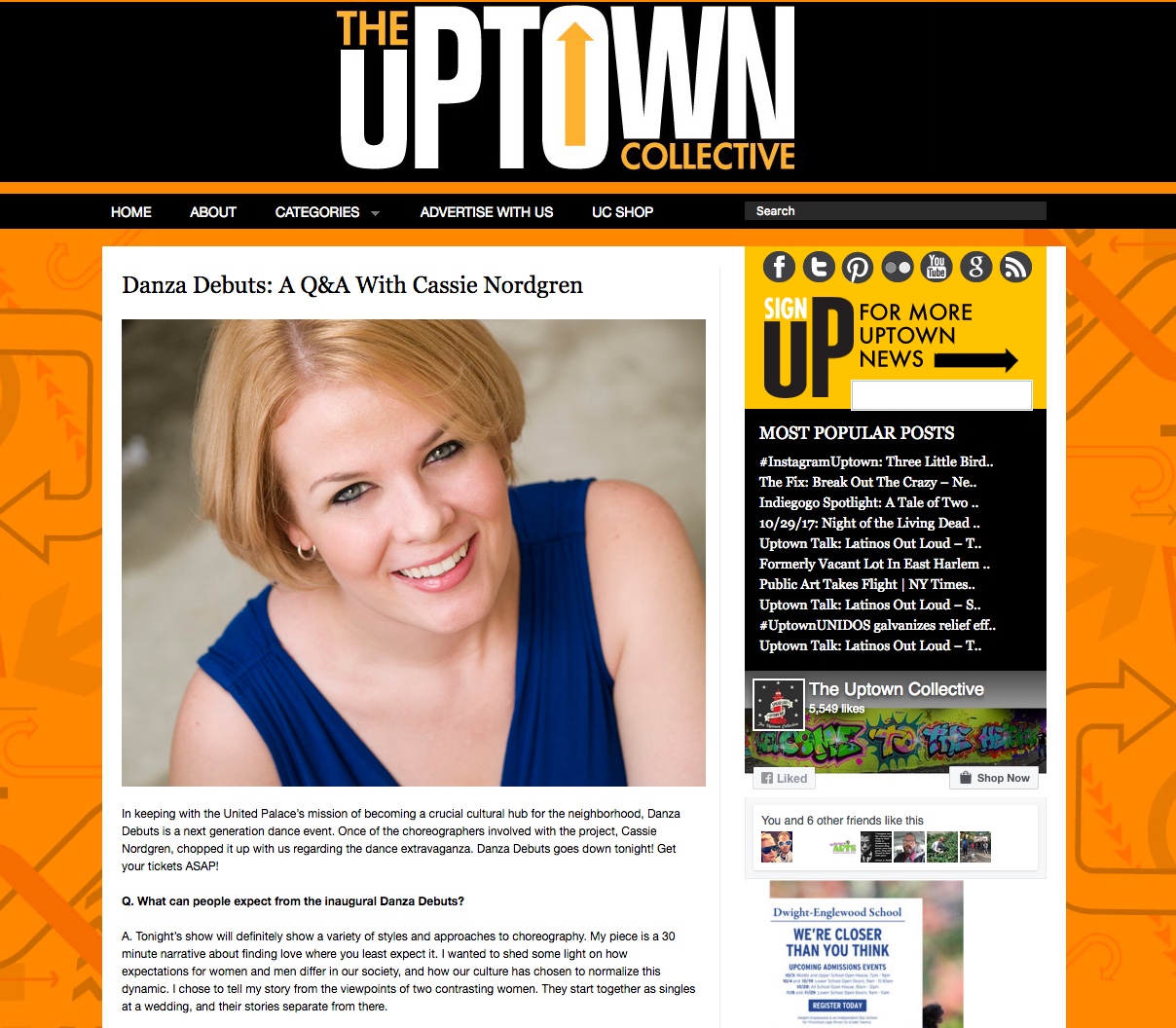 Thrulines' Founder, Cassie Nordgren, speaks to uptown Collective!
"In keeping with the United Palace's mission of becoming a crucial cultural hub for the neighborhood, Danza Debuts is a next generation dance event. Once of the choreographers involved with the project, Cassie Nordgren, chopped it up with us regarding the dance extravaganza…."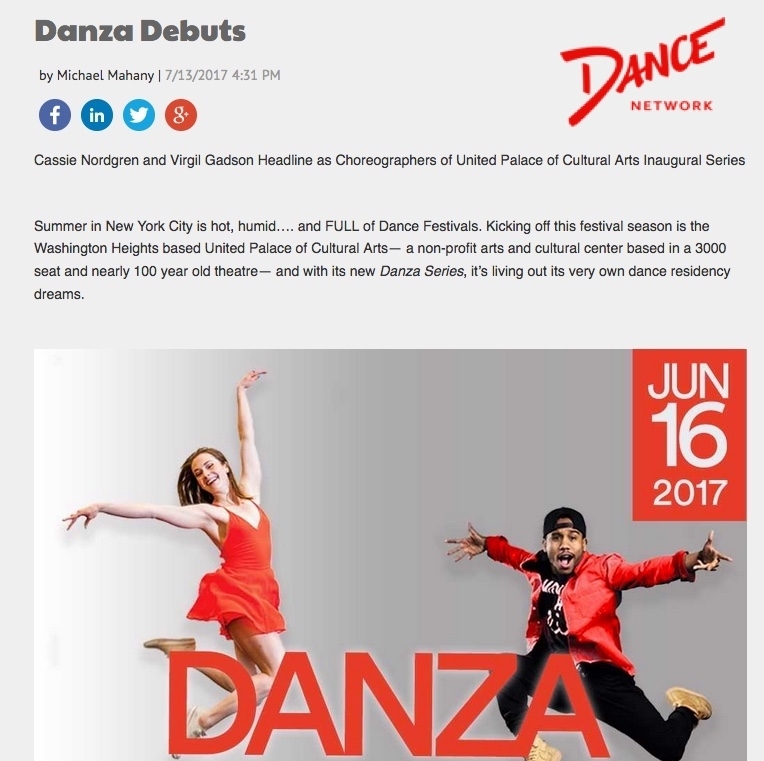 ThruLINES' Debut performance featured on Dance Network!
"The Danza Series, according to UPCA, strives "to raise the profile of dance uptown and introduce new audiences to the art form… through narrative-based performances." Four annual events, including a free festival in High Bridge Park, The Hip Hop Nutcracker, a performance by a world-class artist, and the debut of commissioned work by emerging choreographers, all make up the annual series…."
Cassie recently visited NY1 to promote ThruLines' and the Danza Highbridge Festival.